Roof Access Work – Bird Proofing and Control – Cherry Picker Hire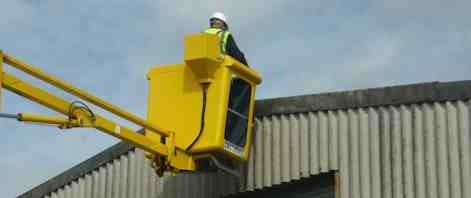 MBC Bird and Pest Solutions based in Bournemouth are the leading bird control company operating throughout Dorset and Hampshire. Gulls and Feral Pigeons are the main pest species we deal with, but other species such as waterfowl and ground nesting birds are often subject to control, whatever the species MBC always have the Solution.
MBC likes to stay above the competition in more ways than one. We have our own access equipment to enable us to survey any potential bird work at height, totally free of charge and inclusive as part of our dedicated commitment to our clients.
Our own van mounted cherry picker comes fully equipped to carry out all bird proofing work, gull nest and egg removals, and roof access to most industrial and domestic buildings.
We are specialist in solar panel proofing against Seagulls and Pigeons as well as spiking, netting, Avishock and bespoke bird restriction techniques.
The Iveco 3.0cc Van is fitted with all round CCTV and recording facilities to enable us to monitor roofs and show the client video footage of the problems, it is also a safety feature for our staff whilst working at height. We have in built hot and cold hand washing facilities, generator, storage for ladders, roof crawling boards and harnesses to enable safe access to most roofs and buildings.
Apart from servicing our own contracts the Cherry Picker is available to other trades and third parties for hire inclusive of a fully trained driver/ operator, fully insured and LOLER tested every 6 months. For details of daily and weekly rates please contact our Bournemouth office on 01202604011 or Tim Lester on 07968052219.
Throughout, Dorset, Hampshire and Wiltshire.