Bournemouth Pest Control Company, MBC Bird and Pest Solutions were awarded the contract to install netting to the latest attractions at Bird World in Farnham, Hampshire.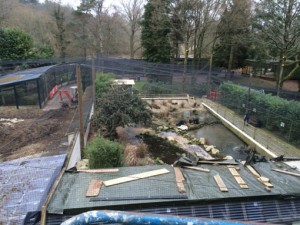 The new enclosures are the Seashore Walk and Flamingo Lagoon, both are walk in attractions all under one roof, where visitors can get a close up of the birds featuring in the attraction, the Seashore Walk will be home to many of the common species and waders found indigenous to our native coastline, as well as exhibits from other parts of the world, the Flamingo Lagoon will house a flock of 30 new Flamingos and other exotic bird species from various Countries and many birds familiar to the UK.
The enclosures have new ponds and waterfalls, as well as new housing, delightful landscaping and fauna. The netting was a difficult task to complete as access was restricted, the overall size was 65 metres x 45 metres and although the mesh sizes were different the net was joined and completed as one over the whole enclosure, support was from telegraph poles concreted into the ground and a frame work constructed using stainless steel 3mm wire rope, fittings and fixings.
MBC were chosen to complete the work through their association with the main contractor who specialise in constructing zoo enclosures across the UK. our next project has already been assigned to a zoo in Norfolk where we are netting a similar walk in aviary designated to house exotic birds from Australia.
It makes a change to work on keeping birds in rather than our normal proofing work to keep Gulls and Pigeons out.