MBC Bird and Pest Solutions were called out by a gas technician working on a Landfill site situated close to Bournemouth after he noticed a buck roe deer caught on some litter fencing and struggling to free itself. Tim Lester, Director of MBC agreed to attend site at 10.20 PM after the waste company representative failed to make contact with their national service provider, having had previous working relations with this particular client MBC felt obliged to assist fully in respect to the welfare of the deer.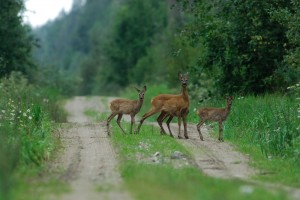 After restraining the deer, Tim was able to cut the netting free and release it without any further harm. MBC bird and pest Solutions provide a 24 hour callout and emergency service to deal with all pest control problems in the Bournemouth, Southampton and Portsmouth areas.
It is annoying when some Pest control companies offer the service of free callouts 24/7 and are rarely available to respond or deal with such emergencies, particularly when it comes to larger mammals such as deer, foxes and badgers.
If you require out of hour's emergency pest or bird control, our 24 hour service is available through our direct contact no 07968 052219.