Bird Guano Cleaning & Prevention Services
Guano Cleaning can be almost as dangerous as the removal of asbestos in as much that it is a serious and hazardous product and can be infectious by inhalation or transmission of pathogenic organisms.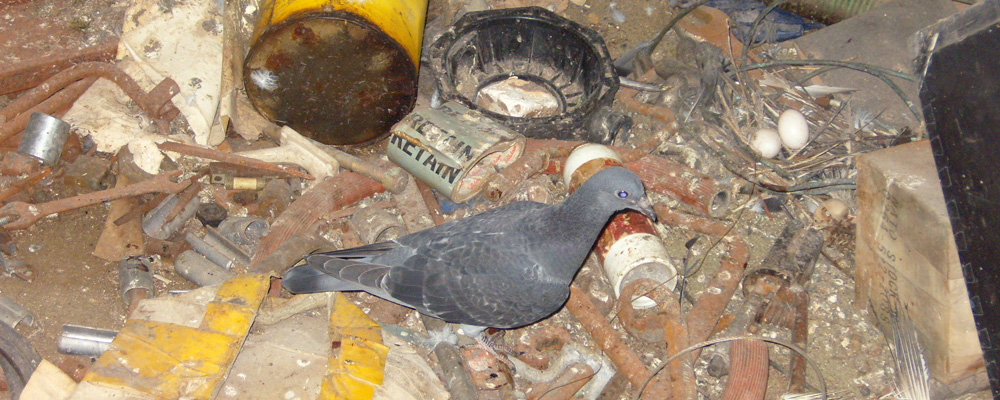 The three main diseases known to be associated with bird guano (bird poo) are histoplasmosis, cryptococcosis and psittacosis, all can represent a risk to human health. Histoplasmosis and cryptococcosis are fungal diseases that grow in the droppings and soil these can be contracted by skin inhalation, orally, airborne or through cuts or wounds. Psittacosis is a bacterial disease that spreads when guano dries and the particles become airborne and inhaled. In addition other diseases such as E-coli, salmonella, campylobacter and listeria can all be present and transmittable through contact with bird guano or droppings. Waste disposal of bird guano also presents other challenges, as it is officially classed as "hazardous waste" and therefore restricted from many waste or landfill sites.
In substantial quantities bird guano and nesting material can harbour parasitic insects such as mites, lice, fleas and ticks along with acidic properties which can cause damage to the substrate or fabric of buildings and structures such as bridges or heritage sites which ultimately leads to higher cleaning and repair bills.
Health & Safety
Whilst it may be safe to clean up the odd bird dropping, handling guano of any quantity should be done with extreme care and caution. Measures should be taken at all times to protect operational staff, contractors, the general public or anyone present within the restricted zone. There are specific health and safety regulations that need to be followed when working with or near to bird guano infestations, PPE should always be the first line of defence and the last, strict method statements and risk assessments need to be adhered to before operating in such areas,
Anyone doing so should observe legislation and regulations below or consult an experienced professional for further advice.
The Management of Health and Safety at Work Regulations 1992, Regulation 3
The Personal Protective Equipment at Work Regulations 1992 (SI 1992/2932)
The Control of Substances Hazardous to Health Regulations 1994
Ask the Experts
If you have a guano problem you should always consult a qualified expert to minimise any risk of disease or transmission to third parties, additionally other factors need careful consideration.
The need to remove problem birds to eradicate the root of the problem.
The need to install bird proofing to stop further infestation or the accumulation of pest birds and the initial problem reoccurring.
Why MBC?
Tim Lester our CEO has been involved in bird guano removal and cleaning for many years, having cleaned the old aircraft hangars at Bournemouth International Airport, followed by the Eldridge Pope Brewery in Dorchester, Dorset, prior to it becoming Brewery Square facilities complex. We are also approved by the MOD at HMNB Portsmouth and work in conjunction with DRSO to clean mothballed warships, including aircraft carriers HMS Invincible, HMS Ark Royal and the landing craft HMS Fearless and HMS Intrepid prior to scrapping.
Contact us
If you think we can help with your bird infestation or guano cleaning operation? we are more than happy to provide any relevant free advice, provide an in depth survey and free no obligation quotation or hopefully assist you with your bird guano cleaning and disinfection requirements.
As you can see from the pictures, we have the knowledge; we have the experience also the ability to provide fully qualified technicians that have ultimately helped on each these projects.
For further information on Guano cleaning contact our Head office in Bournemouth: Lester Bird and Pest solutions Ltd.
Tel 01202 604011 or for instant advice contact Tim Lester on mobile: 07968 052219. Also Quick Contact or Freephone: 0800-612-5211.