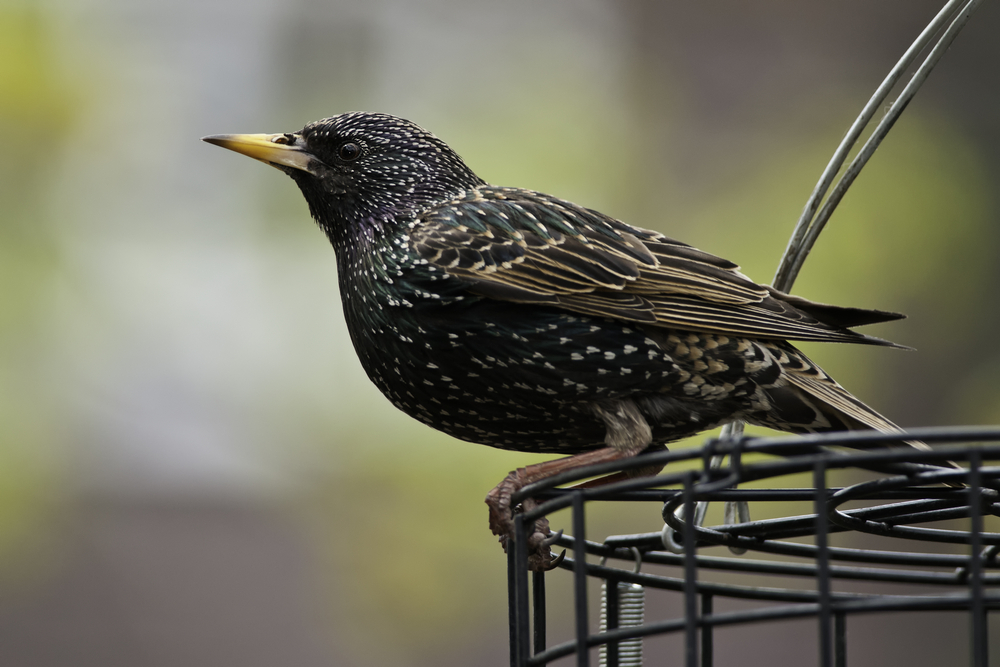 Starling (sturnus vulgaris) are considered to be a pest species of bird, once unprotected and on the general licence they have now been removed and require authorisation to kill, injure or destroy nests and eggs, due to a 66% in decline in the 25 year period 1974 – 1999 at MBC Bird and Pest Solutions we value the Starling and appreciate its decline in numbers throughout these years.
They tend to congregate in very large communal winter roosts in woodland, reed beds, park lands and urban sites such as buildings and sheltered premises.
The Starling is considered on the Red list of birds under conservation concern due to its demise in numbers.
The often spectacular aerial display performed by many thousands of birds is beauty to be admired, however the reason for this is action is unconfirmed but speculation is they are attempting to increase body heat prior to roosting on cold winter evenings.
Biology
Starlings build substantial nests for their size consisting mainly of grasses and loose vegetation and prefer cavities or voids in trees and buildings, during the breeding season Starlings are mostly insectivorous, leather jackets form a large part of their diet, they also consider soft fruits as an important food source especially for reared offspring. During the harder winter months they become omnivorous by eating invertebrates, grain and stock feed, and are common scavengers at waste and refuse sites.
Their Guano is highly acidic and can corrode:
Vehicle paintwork
Old buildings
Boats and fibreglass
Gantry and steelworks
Who do they affect?
Damage results primarily from their sheer numbers, roosting and feeding habits when problems arise from:
Noise
Mess and guano deposits.
Health, disease and safety risks
Killing of trees
Huge intake of animal foodstuffs
Damage to fruit farms, generally 18% percent of crop yield
Guano extremely corrosive to buildings and monuments
Nest building in commercial and residential premises
In addition to obvious damage, there is the possibility that Starlings may act as vectors of both human and livestock diseases due to their commensal habits, once considered a major carrier of polio.
Starling Pest control and Management
Although off of the general licence starling can still be controlled without harm or injury, we offer many solutions to prevent Starlings from becoming a pest by:
Live predatory bird and Pest control
Bird proofing using 19 mm netting or sprung wire installations
PVC strips to exclude from buildings
Scaring using noise or visual deterrents including laser bird control or flashing strobe lights
Once the roost has been disturbed over several consecutive days it is highly unlikely that they will return, however this method may not be practicable in city or town centres.
Why MBC Bird and Pest Solutions
Because we have an ethical approach to all of our pest control solutions and consider the starling as a protected species, we look to use non lethal or injurious methods of control. Our technicians come fully equipped to deal with any pest or bird problem and always on hand to provide free site surveys prior to advising or carrying out pest control treatments.
We are all BPCA qualified technicians and experienced in all Pest problems for birds, gulls, pigeons, rodents, deer, foxes, rabbits, moles or flying insects such as wasps, flies, ladybirds, mosquitoes and crawling insects like cockroaches, fleas, bed bugs and beetles.
Our areas of operation are Bournemouth, Portsmouth, Southampton and all areas of Dorset and Hampshire.
Contact us on our Bournemouth branch which covers Southampton, Portsmouth and all areas of Dorset, Hampshire and the South West. Tel 01202 604011 or 07968 052219 or email us for more information