MBC Bird and Pest Solutions were recently called by a development company based in Bournemouth, to help remove foxes from a building development in Branksome Park, near Poole, Dorset.
The problem occurred when construction staff noticed that the extensive grounds to the new build property was being overrun by foxes and that they were starting to become a pest, initially it was considered ok to leave them on the site, but after many problems beginning to arise from their presence the new owner decided they had to go.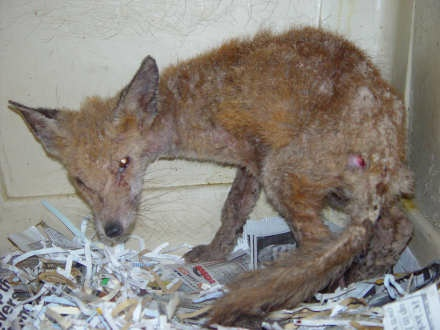 Firstly it was apparent that most of the foxes had contacted sarcoptic mange and fleas, this often results in a slow painful death if left untreated, they were also leaving worm infested deposits within the new construction and destroying some of the extensive new features of the property and gardens.
MBC fox control technicians were sent to the property and advised on a course of action to remove the foxes from the premises. After capture an assessment was made on the condition of the foxes and whether treatment was viable.
Foxes have been known to attack domestic pets and in some cases children, most carry disease, worms, and parasitic insects that can be harmful to humans. MBC always consider our options before taking them, in all cases the welfare of the animal and when necessary the humane dispatch of the animal is given upmost priority and careful consideration at all times.
MBC provide a 24 hour callout and emergency service to deal with all fox related pest control problems in the Bournemouth, Southampton and Portsmouth areas. We are home office approved and police licensed.
We have a range of fox deterrent products available, fox proofing, live trapping, dead fox removal and spot cleaning, disinfection and removal from under garden sheds etc.
If your home, school, college, factory or leisure facility is being plagued by foxes, contact us and we will provide a free survey and quotation to deal with your pest problem.
If you require out of hour's emergency pest or bird control? Our 24 hour service is available through our direct contact no 07968 052219.