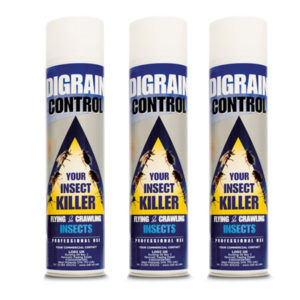 Digrain Flying and Crawling Insect Destroyer 600ml
0.25% Permethrin 0.24% Tetramethrin
A powerful insect spray combining the fast knock down properties of tetramethrin and residual action of permethrin. No need to carry two cans around for crawling and flying insects when this does both.
HSE: 7493
not rated
£

7.44 –

£

89.28
Select options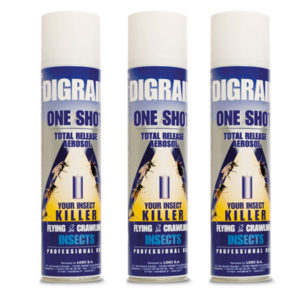 Digrain One Shot 300ml 1.46% Permethrin
Digrain One Shot can be used as a conventional product for the control of flying or crawling insects but more importantly also as a total release aerosol. Press and (quarter turn) twist nozzle to automatically release. One canister can cover 300sq. metres in 2mins 52 seconds. 30 second burst will cover 50sq. metres – Retwist nozzle and use again.
HSE: 7711
not rated
£

8.19 –

£

98.29
Select options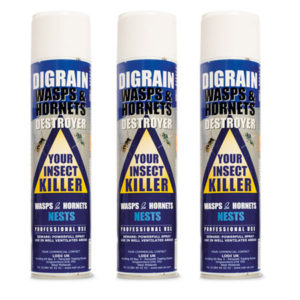 Digrain Wasp and Hornet Destroyer 600ml
0.25% Permethrin 0.24% Tetramethrin
Highly effective Wasp and hornet destroyer. Fast acting insecticide aerosol for the control of wasps, hornets moths and flies. Nozzle and valve design provides a directional jet of product of 18 feet offering operator safety. Combined action of 0.25% Permethrin with the knock down of 0.24% Tetramethrin. Large can size for improved economy and to ensure that you dont get caught short with a large wasp nest.
HSE: 7644
not rated
£

7.66 –

£

91.92
Select options