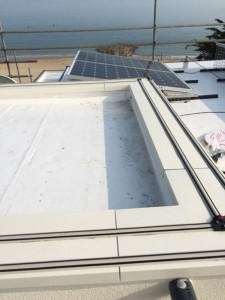 Sandbanks in Dorset, probably one of the most luxurious and wealthiest real estate areas in the UK, MBC Bird and Pest Solutions through reputation of being the leading independent bird control company in Dorset, have several contracts in the region to proof against Seagulls. Most of the proofing work being undertaken is to install Avishock systems, a product that offers to be discreet while actually teaching the birds to keep away rather than spiking and netting which excludes the birds from an area.
Avishock works on a principle similar to an electric fence used to enclose livestock or deter pest mammals, it is a track that is applied to parapets and fascias and delivers a harmless pulse to the birds should they land on it, thus soon teaching them that it is not a very pleasant place to be, It is not intended to kill or injure and is fully approved for use in the UK. MBC have the expertise and training required to install the system correctly, ensuring a trouble free operation which will last for many years. It is proving to be the preferred choice of Gull deterrent systems in Dorset, mainly because it can hardly be seen once installed.
We have just completed an Avishock Installation in the Sandbanks area, as well as proofing around the clients Solar panels after gulls decided to invade the nearly completed new build holiday home. For further information on the use of Avishock, contact MBC Bird and Pest solutions to arrange a free site survey and no obligation quote.